HELP! 
I'm a Copenhagen-based creative kid trapped in a 31-year-old Art Director's body!  
Right now I'm having a great time working as an Art Director at Ogilvy Copenhagen.
In my advertising journey I've gotten my hands dirty with brands like 
Kim's Chips, McDonald's, Cocio, Flügger, Kræftens Bekæmpelse, BAT, Danish defence, Shell, Alternativet and Karma Sushi.

When I'm not working, you will typically see me bridging the gap between
an old man that likes his sedate adventures like calligraphy, knitting, growing and taking care of plants.
and
as young buck with activities like CrossFit, Boxing, winter swimming,
and learning new skills like how to rollerblade, shoot a gun, and shuck oysters. 

I prefer cocktails to beers and dogs to cats but dream of having a dwarf roster.
Now that's enough about me...what do you think of me?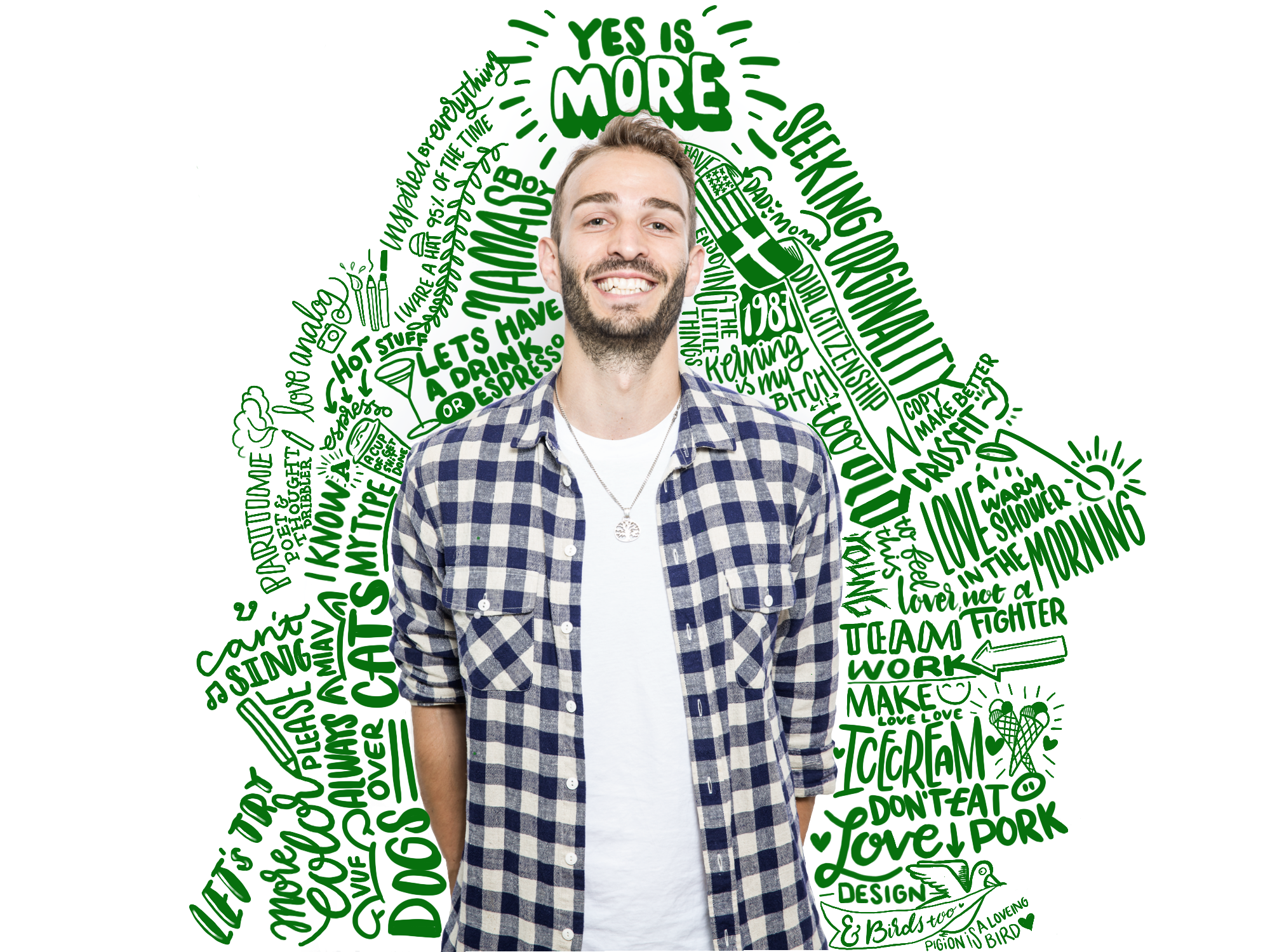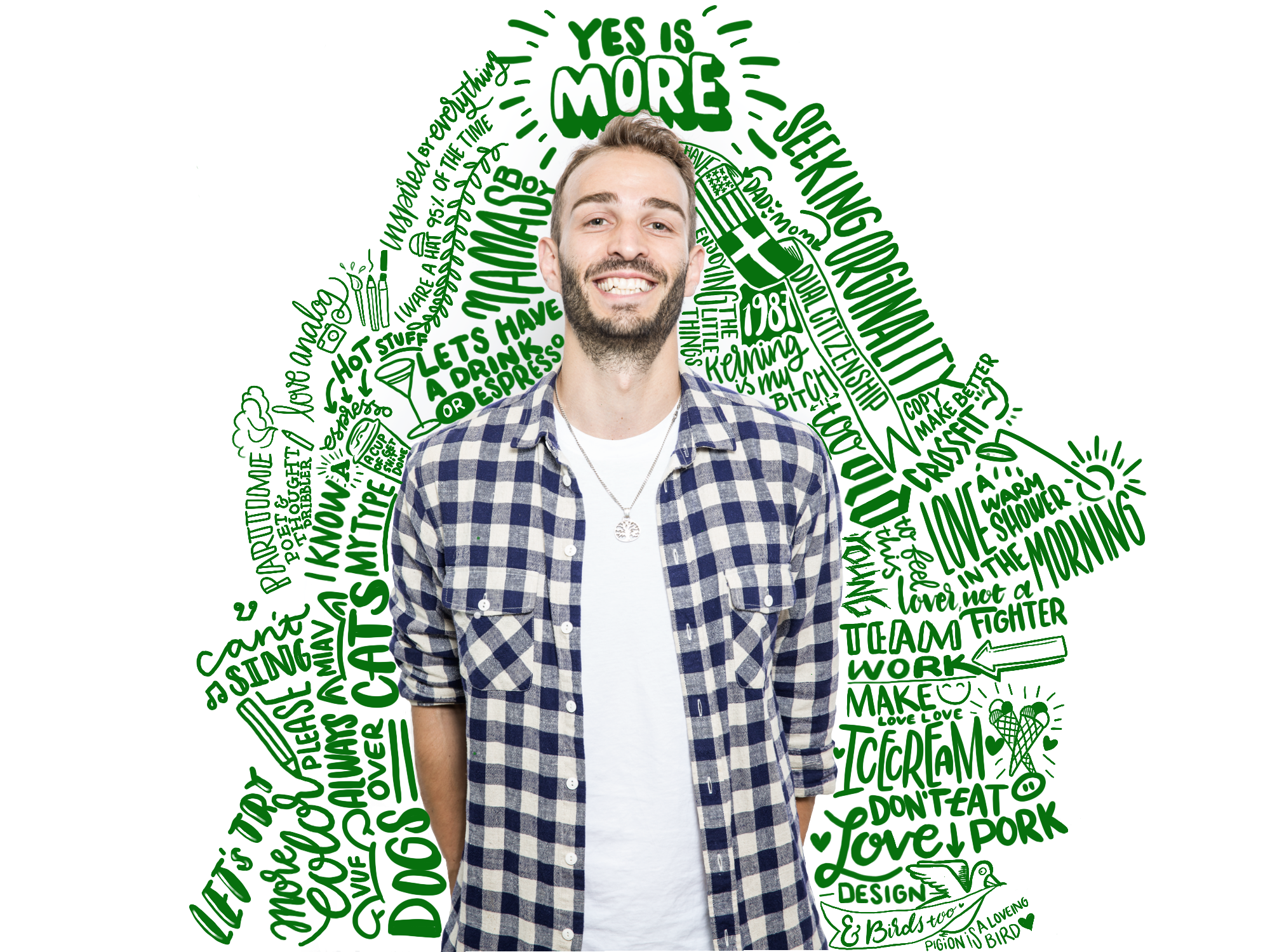 My 15 seconds of fame:
DDB Male employee of the year 2015 - Winner
Fuck You I'm Famous Award 2015 - Winner
Eurobest Young Creatives 2014 - Competitor
Aurora Youngsters 2014 - Shortlist 
2 X Danish Digital Awards 2014 - Shortlist, Integrated Campaign
Experience 
Oglivy Copenhagen- Creative (started freelance)
Alternativet (danish political party)- Freelance
DDB Copenhagen - Creative
DDB Copenhagen - intern
&co - Intern
BA in Creative Communications
AP in Multimedia Design
 
[unex_ce_button id="content_erjljowqq" button_text_color="#0b7500" button_font="semibold" button_font_size="15px" button_width="auto" button_alignment="center" button_text_spacing="2px" button_bg_color="#ffffff" button_padding="15px 60px 15px 60px" button_border_width="5px" button_border_color="#0b7500" button_border_radius="0px" button_text_hover_color="#000000" button_text_spacing_hover="2px" button_bg_hover_color="#ffffff" button_border_hover_color="#000000" button_link="https://www.dropbox.com/s/ao2boo7359fd2cl/Tau_resume.pdf?dl=0" button_link_type="url" button_link_target="_blank" has_container="1" in_column=""]Resumé / Curriculum Vitae[/ce_button]
[unex_ce_button id="content_8a9w90s4o" button_text_color="#0b7500" button_font="semibold" button_font_size="15px" button_width="auto" button_alignment="center" button_text_spacing="2px" button_bg_color="#ffffff" button_padding="15px 105px 15px 105px" button_border_width="5px" button_border_color="#0b7500" button_border_radius="0px" button_text_hover_color="#000000" button_text_spacing_hover="2px" button_bg_hover_color="#ffffff" button_border_hover_color="#000000" button_link="Hey@tau.today" button_link_type="email" button_link_target="_blank" has_container="1" in_column=""]Say Hi or Goddag[/ce_button]